Project Thesis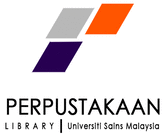 The full theses of the final year projects (or FYP) of the undergraduate programs (Food, Bioresource, Environmental, and Bioprocess) can be accessed at the link below.
Search for "Pusat Pengajian Teknologi Industri - Monograf" in the search text box.
To go to the website, you need to be within the USMsecure network. You may also need to have a USM email account and password to login to the system. Alternatively, you can access it through the Hamzah Sendut Library website and use the Off Campus Log In Via OpenAthens.