MSc in Environmental Science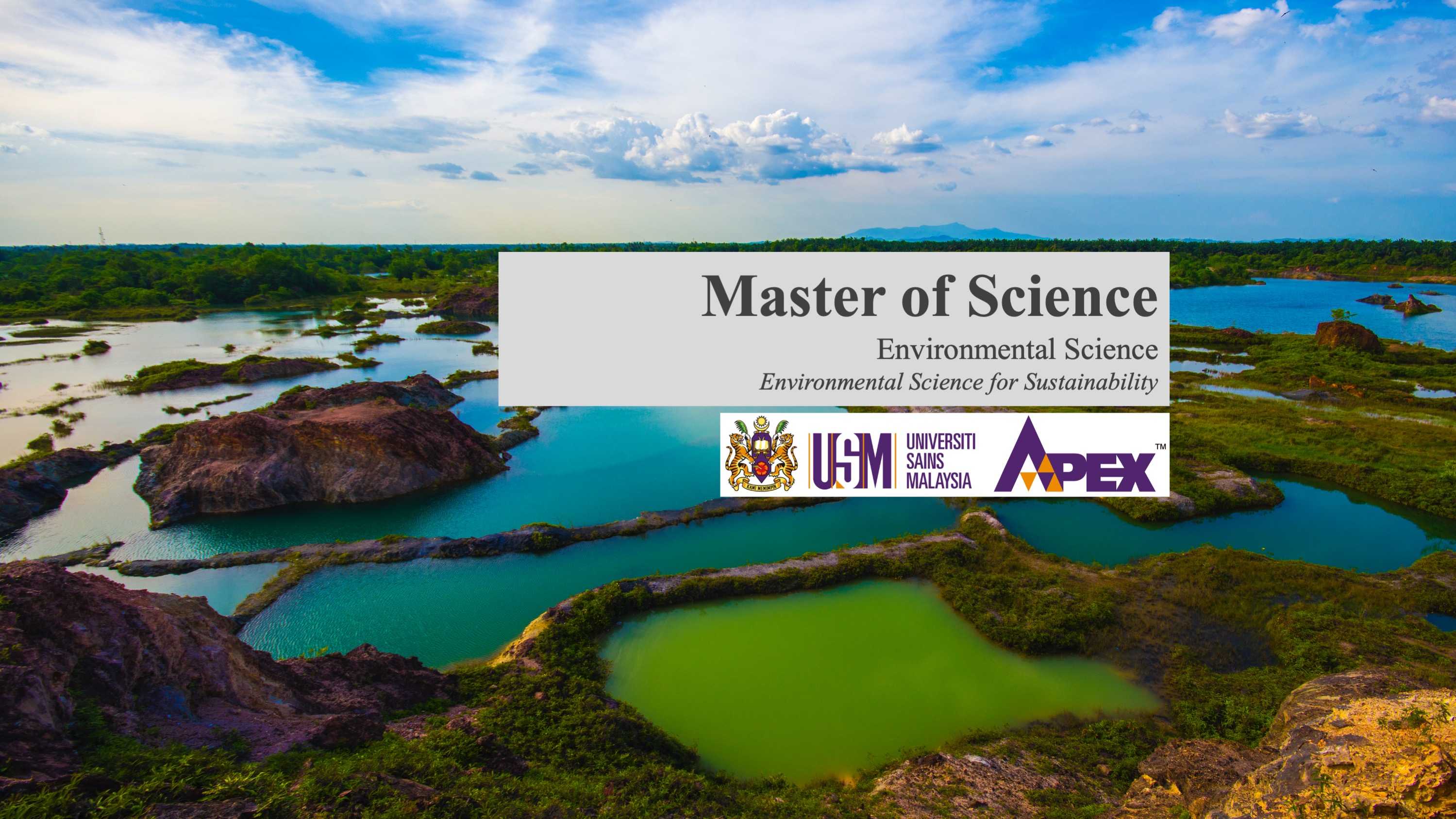 The full coursework Master of Science in Environmental Science program is designed to develop your environmental scientific and analytical skills for a professional career in the government or private sectors. It is an interdisciplinary program that combines the natural and social sciences within a technology-based multidisciplinary framework.
TO APPLY please visit http://onlineips.usm.my/admission/ or to inquire, please email msc_env@usm.my.
---
Career Prospects
By obtaining this Master's Degree, you widen your career opportunities. In the management field, you can be a policy advisor, environmental manager, or government officer. In business, you can be an environmental consultant or product manager. In research, you will be able to be an academic, environmental science specialist, or a researcher. This Master's degree will also allow you to proceed to a Doctorate (Ph.D.) in diverse fields such as in the Sciences, Engineering, Technology, or even Social Sciences.
---
The Program Structure
This Master program is a flexible program. Classes are held either online, at night or on weekends. Labs would be on the weekdays. Registration is open two times a year. You can register for the first or second semester.
To graduate, you would need to complete 40-unit courses, which cover core and elective courses, 27 and 20 units, respectively. You need to take all core courses (a total of 27 units), but you can choose the elective courses (a total of 13 units). A typical program would consist of two semesters; each semester would be 18 weeks or four months long.
*For the course IEA505 Research Project (8 units), it is a course that spans two semesters. For example, you can take this course in the second semester and continue the second half of the course in the first semester or vice versa.
*Per course, the student needs to achieve a grade of C+ or 2.33 to pass the course.
*To graduate, the student needs to obtain a minimum of Cumulative Grade Point Average (CGPA) of 3.00 or B.
---
Info for International Students
Please visit the International Mobility and Collaboration Centre (IMCC) USM for visa information.
---
APPLY NOW at http://onlineips.usm.my/admission/
You can also find other relevant information on the Institute of Postgraduate Studies USM website.